"The soothing red light feels incredibly relaxing but also delivers remarkable results. I've noticed massive changes in the texture and tone of my skin."
Regular price
Sale price
$99.00 USD
Unit price
per
Sale
Sold out
Red Light Therapy


Red light delivered via LED deeply rejuvenates the skin. This helps promote youthful, radiant skin by reducing the appearance of wrinkles, fine lines, and other blemishes.

Galvanic Current

Galvanic current is a safe, non-invasive form of energy that can help boost absorption of serums & creams, so your skincare products can work more effectively.

Facial Massage

Low-vibration provides a gentle massage, helping to decrease the appearance of puffiness and boost the skin's natural radiance.

Therapeutic Warmth

Warming the skin can help temporarily de-puff the skin.
How to use

Step 1

Wash and dry your face so you start with freshly cleansed skin.

Step 2

Apply a thin layer of any serum to prep your skin for the Wand.

Step 3

Turn on the Wand by pressing the Power button. Glide the Wand across your face in an upward and outward motion, slowly covering your forehead, cheeks, under eyes, jaw, neck, and upper lip. You can use small strokes in each area or long strokes up your neck and face.

Step 4

Relax and repeat for at least 5 minutes a day, three times a week and enjoy your new glow.
Our impressive specs

Time to Fully Charge: 120 min
Battery Life: Up to 90 min
Maximum temp: 107°F (41.6°C)
Red Light Wavelength: 630nm
Max. output optical power density: 40 - 45 mW/cm²
LEDs: 7
Vibration: Built-in
Current: Galvanic Current
Charging supply: 5V 1A
Charging port: Magnetic
Charging cable: Magnetic to USB-A
Charging cable length: 1 meter/3.28 feet
Battery: 3.7V, 500 mAh
Battery type: Lithium-ion

People who are under the age of 18, pregnant, or have implanted devices such as a pacemaker, should NOT use this product. 
What's Included?

What's Included

Radiant Renewal Wand
Charging Cable
Quick Start Guide
Instruction Manual
View full details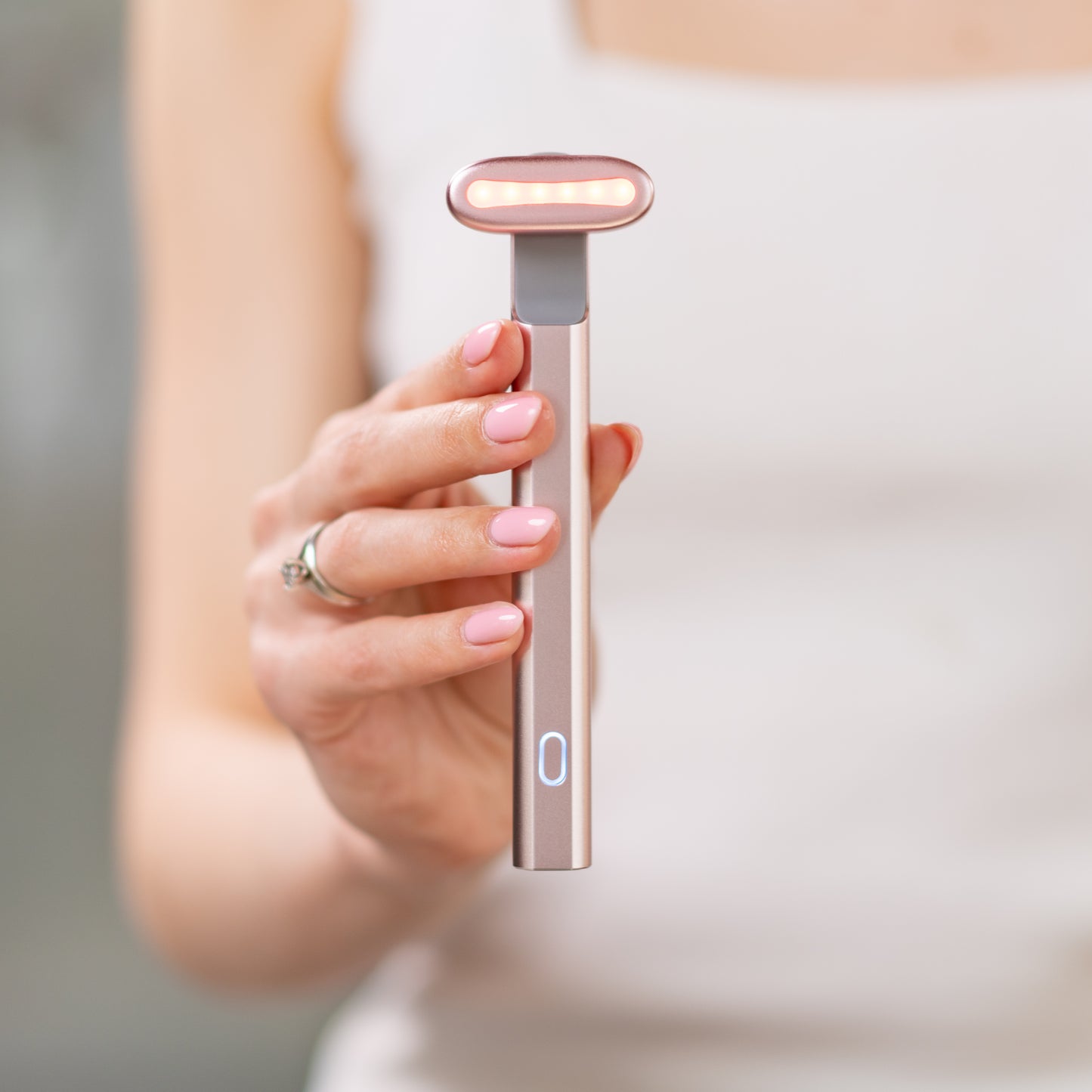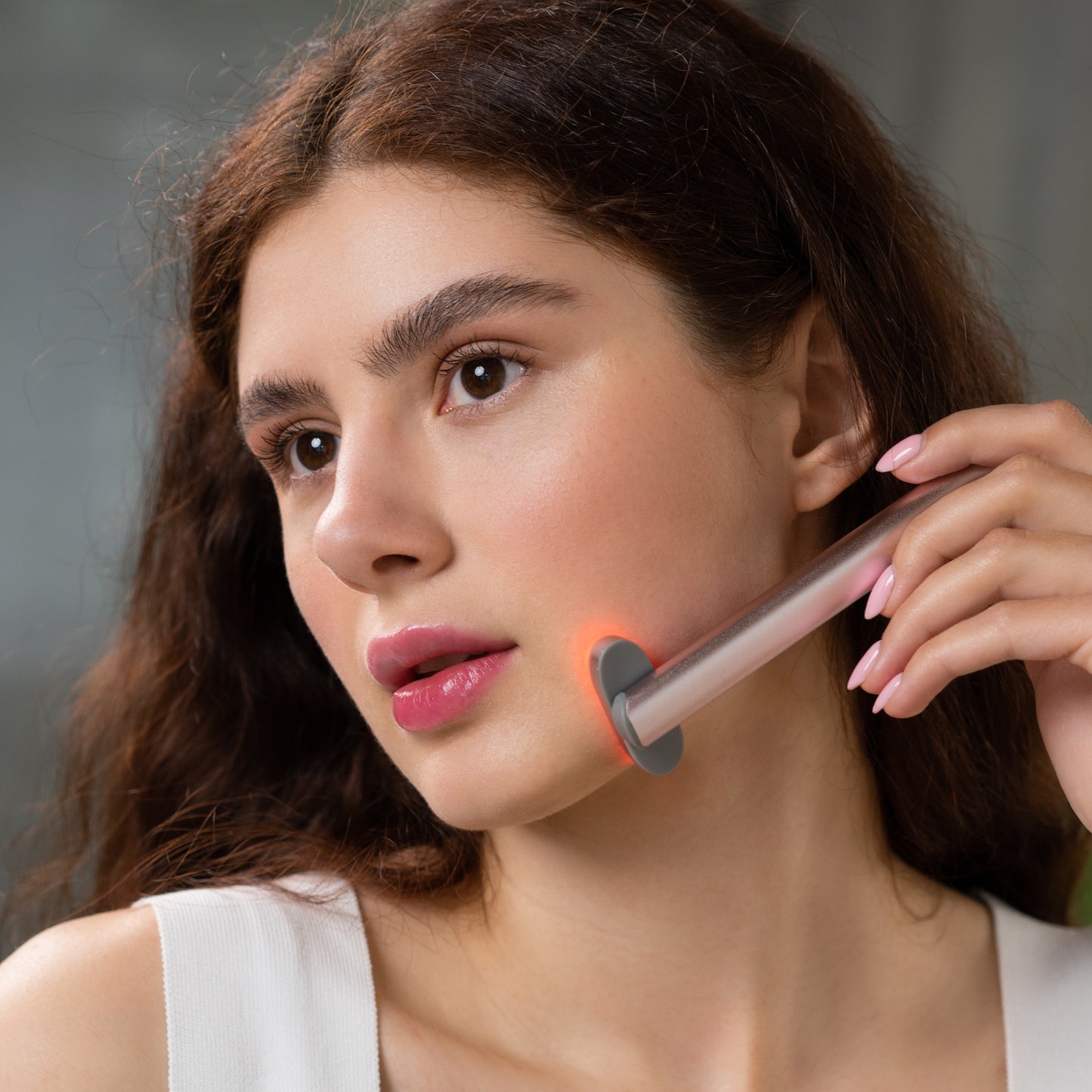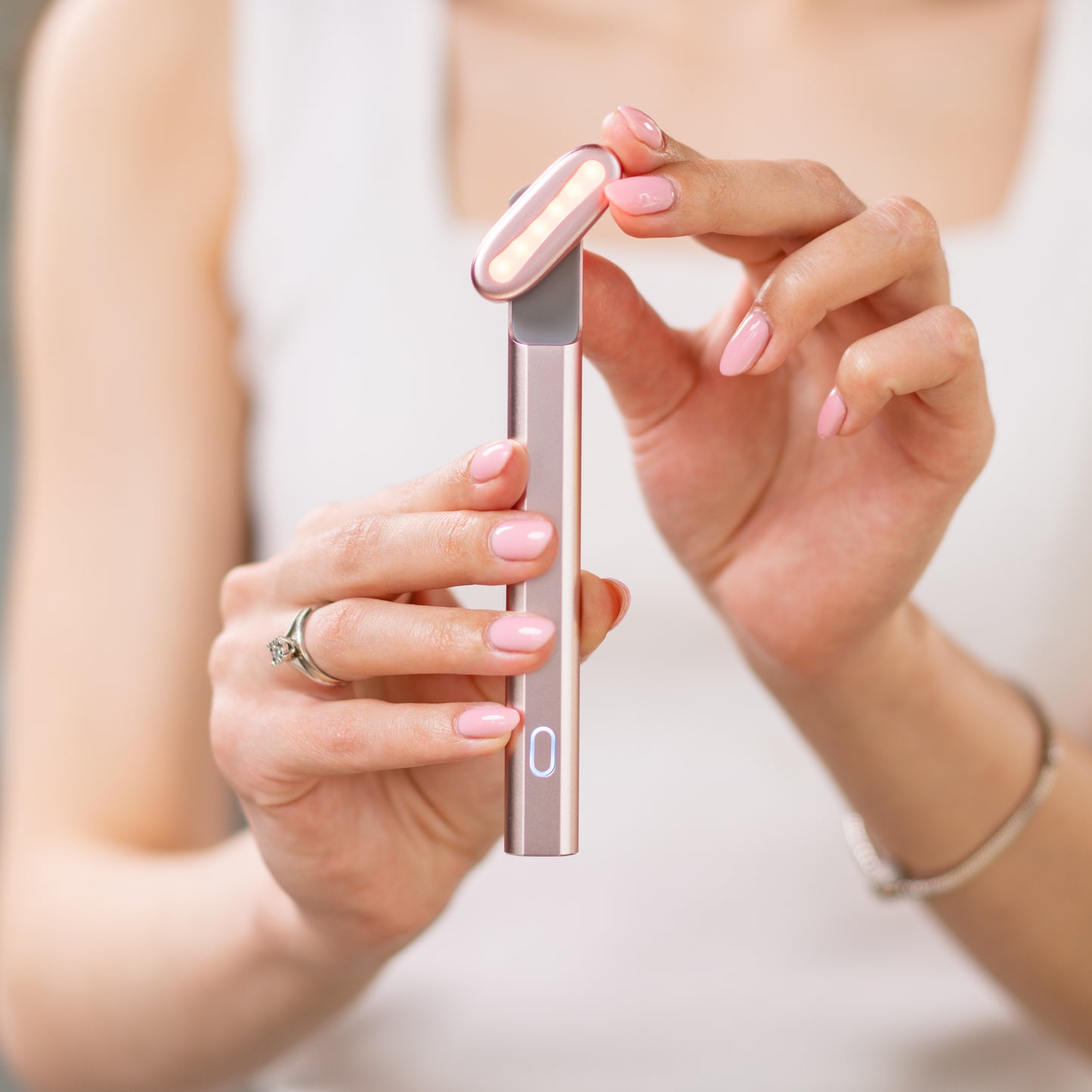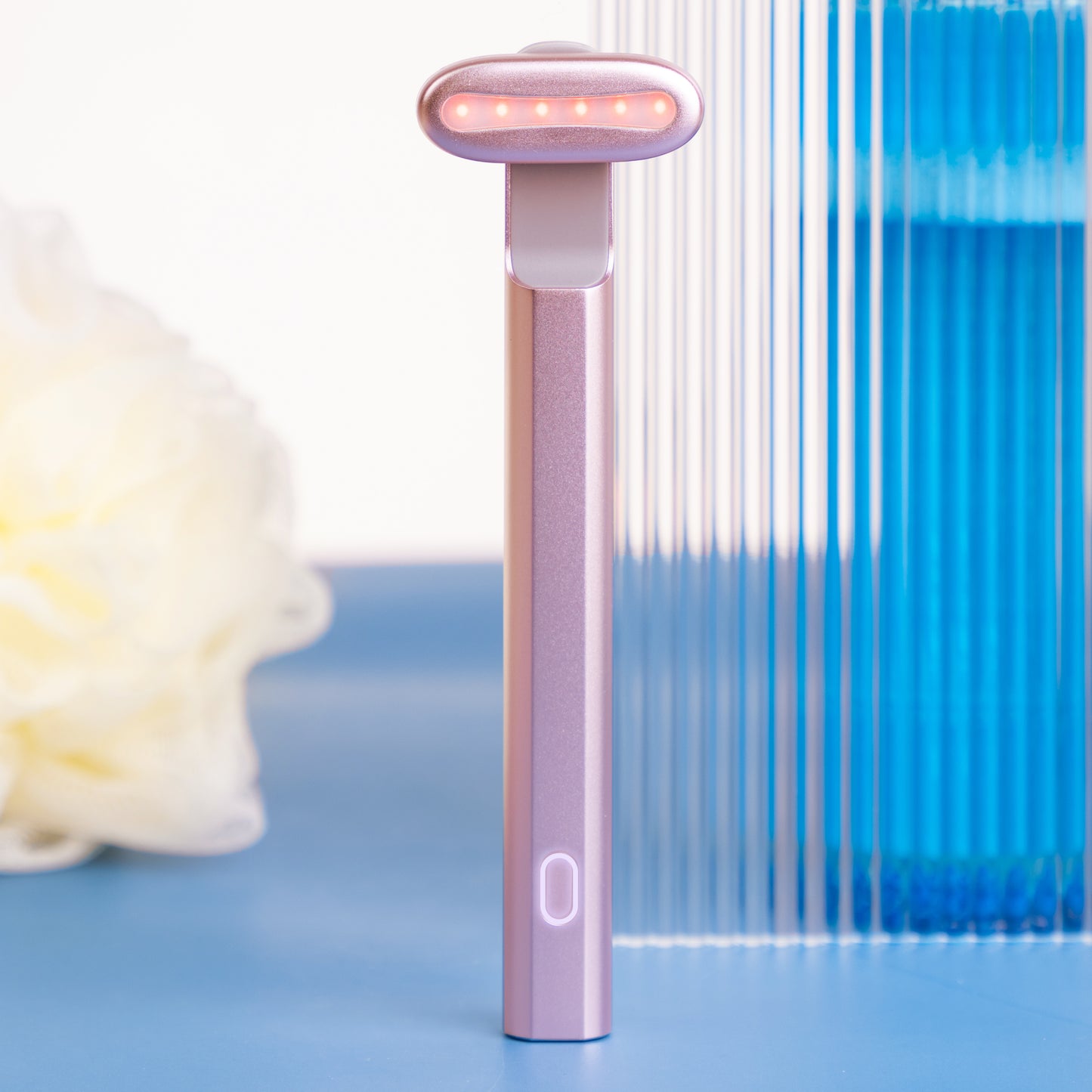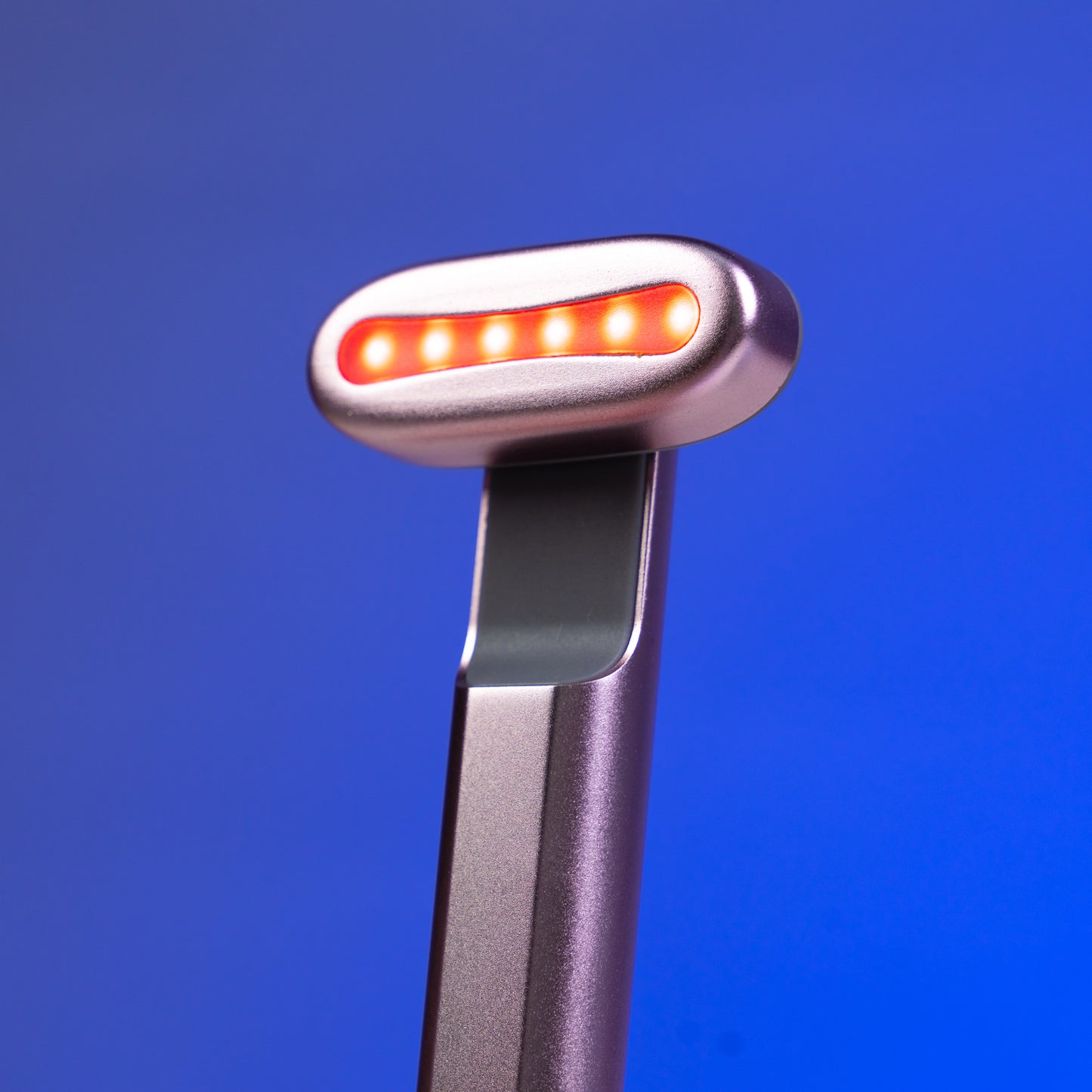 Benefits of use
Stimulates collagen production

Red light therapy promotes the production of collagen, a vital protein that improves skin elasticity and reduces wrinkles
Enhances skin firmness

By promoting collagen and elastin production, red light therapy helps to tighten and firm the skin, resulting in a more youthful and lifted appearance.
Improves skin tone and texture

Red light therapy can even out skin tone, reduce the appearance of hyperpigmentation, and improve overall skin texture, giving the face a smoother and more even complexion.
Reduces acne and blemishes

The anti-inflammatory properties of red light therapy help to calm acne breakouts, reduce redness, and diminish the appearance of blemishes on the face.
Boosts skin radiance

Regular use of a red light therapy wand on the face can enhance skin radiance, giving it a healthy and glowing appearance.
Accelerates skin healing

Our skincare wand promotes skin healing by increasing blood circulation and stimulating cellular repair, aiding in the recovery of wounds, scars, and other skin concerns on the face.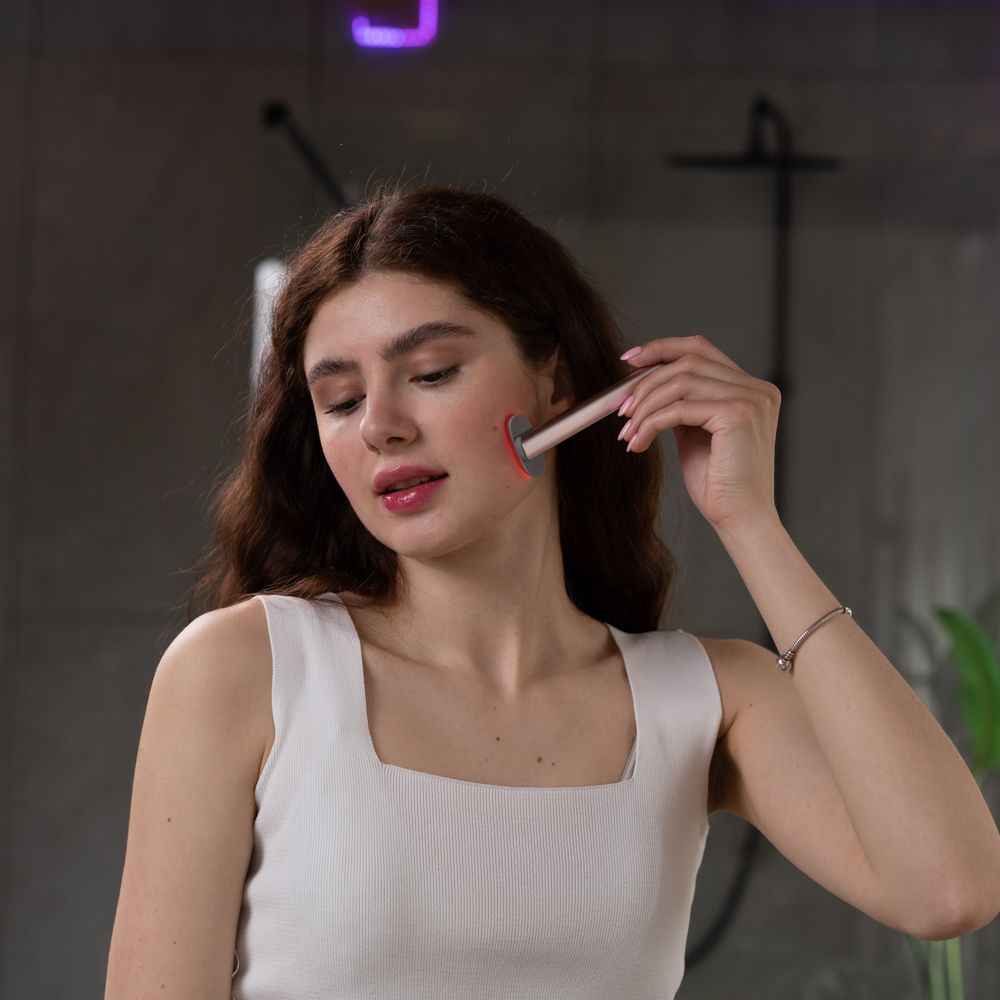 The ultimate 3 minute at-home treatment.
Revitalize Your Skin in Minutes! Our innovative Skincare Wand combines advanced technologies like Red Light Therapy, Galvanic Current, Facial Massage, and Therapeutic Warmth. Experience professional-grade results and say goodbye to dull, tired skin. Embrace a radiant, youthful complexion today!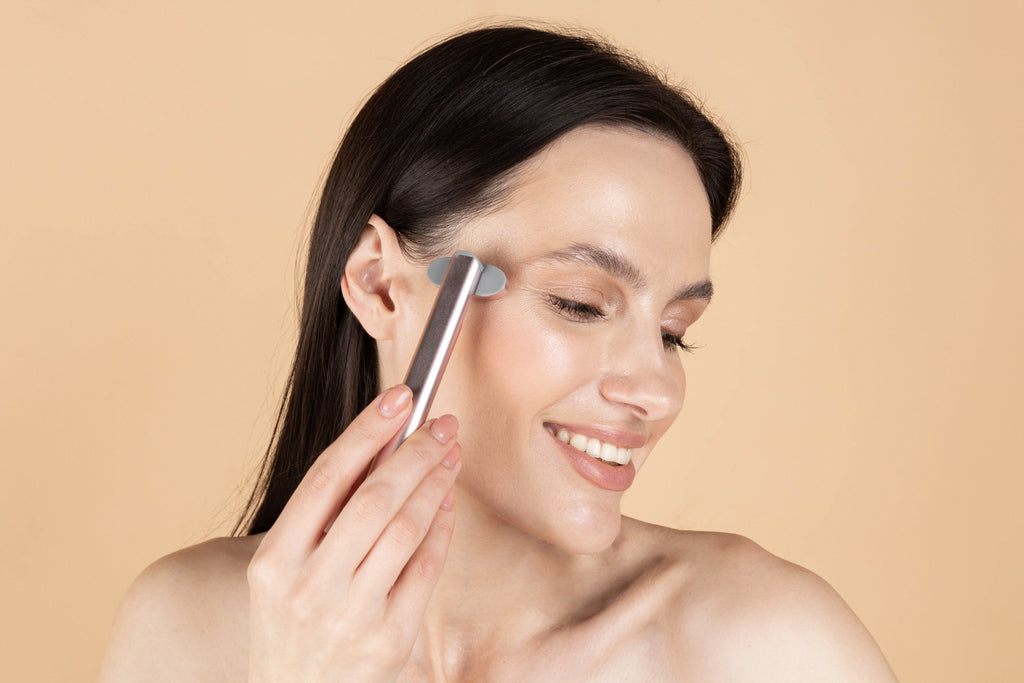 How Long Should I Use It For?
Transform your skin effortlessly with 3-minute sessions, 3 times a week. Experience the power of therapeutic red light as it stimulates collagen production, reduces fine lines, and boosts overall skin health, delivering remarkable rejuvenation in no time.
FAQs
How does the Skincare Wand work?

Our Red Light Therapy Wand emits a therapeutic red light that penetrates the skin, stimulating collagen production and promoting cellular rejuvenation. This process helps reduce the appearance of fine lines, improve skin tone, and enhance overall skin health.
Is it safe to use?

Yes, the Red Light Therapy Wand is safe to use.

It emits a low-level light that is non-invasive and gentle on the skin. It does not emit harmful UV rays and is designed with user safety in mind.
Can I use the Wand with other skincare products?

Absolutely! The Red Light Therapy Wand can be used in conjunction with your favorite skincare products. It enhances the effectiveness of serums, moisturizers, and treatments by helping them penetrate deeper into the skin for optimal results.
How often should I use the Red Light Therapy Wand?

For best results, we recommend using the Red Light Therapy Wand 3 times per week, with each session lasting 3 minutes. This frequency allows for consistent and effective treatment without overwhelming your skin.
Can it be used on all skin types?

Yes, the Red Light Therapy Wand is suitable for all skin types.

Whether you have dry, oily, sensitive, or combination skin, you can safely incorporate this device into your skincare routine.

However, if you have any specific skin concerns or conditions, we recommend consulting with a dermatologist before use.
What if I don't see results?

Everyone's skin is unique.

97% of our customers see results with our products, but for those who don't love their results, we offer a no-questions-asked 100% satisfaction guarantee.

You can return any of our products for a full refund within 30 days of receiving them, even if they're open and used!

We cover return shipping costs, so there's truly no risk of trying it out!
How quickly should I expect to see results?

Our 4-in-1 Skincare Wand provides a wide range of benefits, both immediate and long-lasting. In just a few weeks of regular use, users often notice their skin becoming plumper, smoother, and with reduced under-eye circles, resulting in a beautiful, glowing complexion.

Over time, the appearance of wrinkles becomes smoother and less noticeable. Consistent use of the wand compounds these benefits, leading to a sustained radiance and a revitalized, youthful-looking skin.