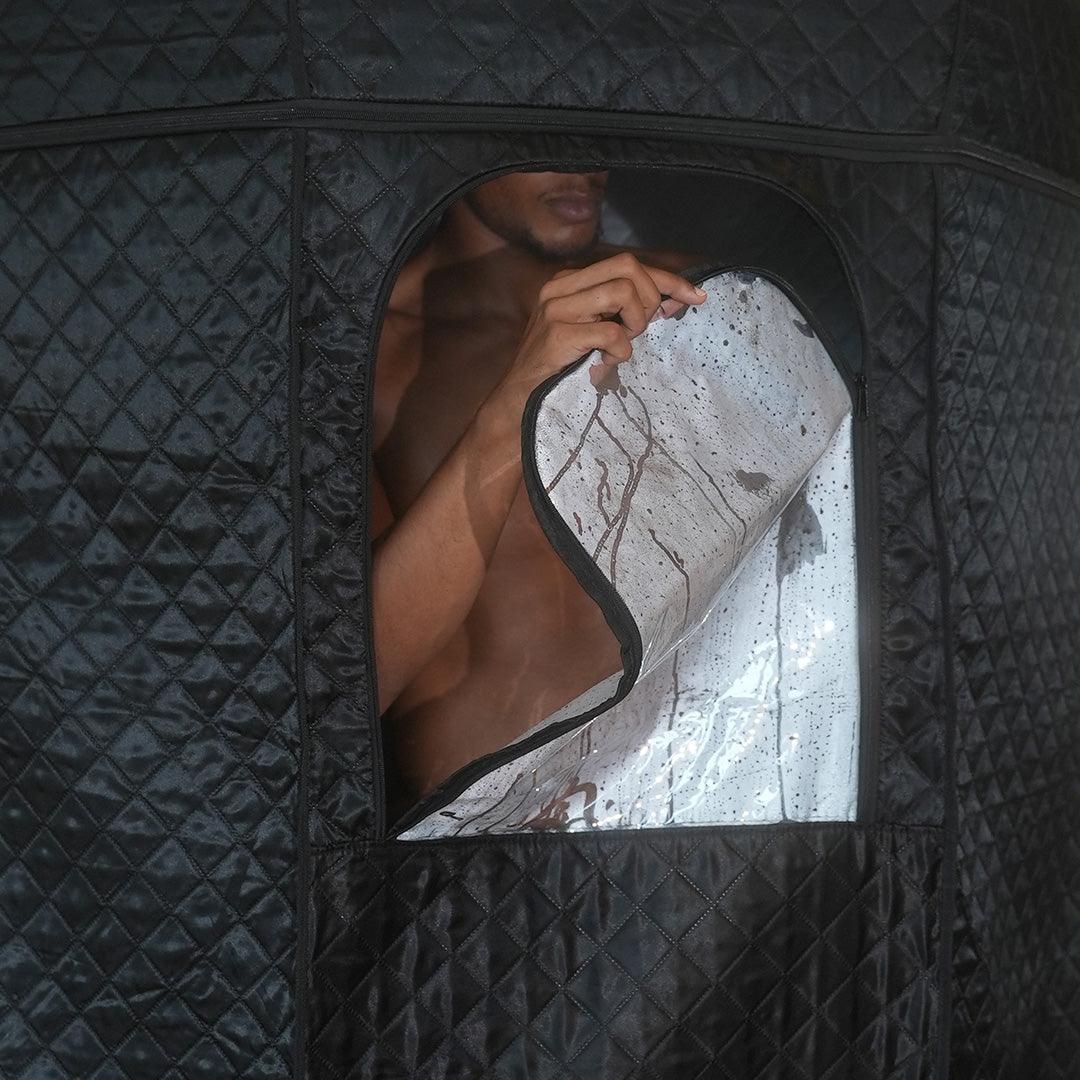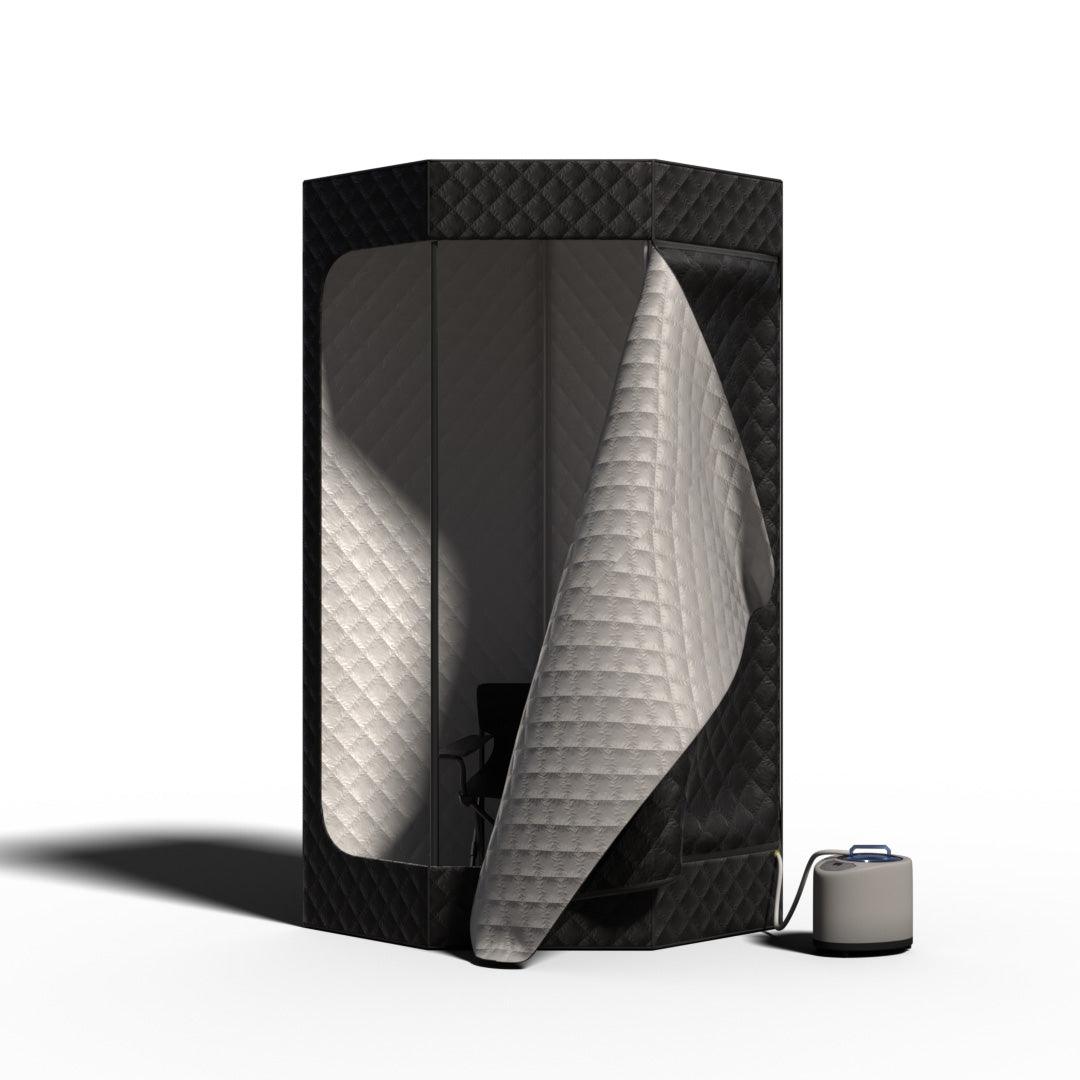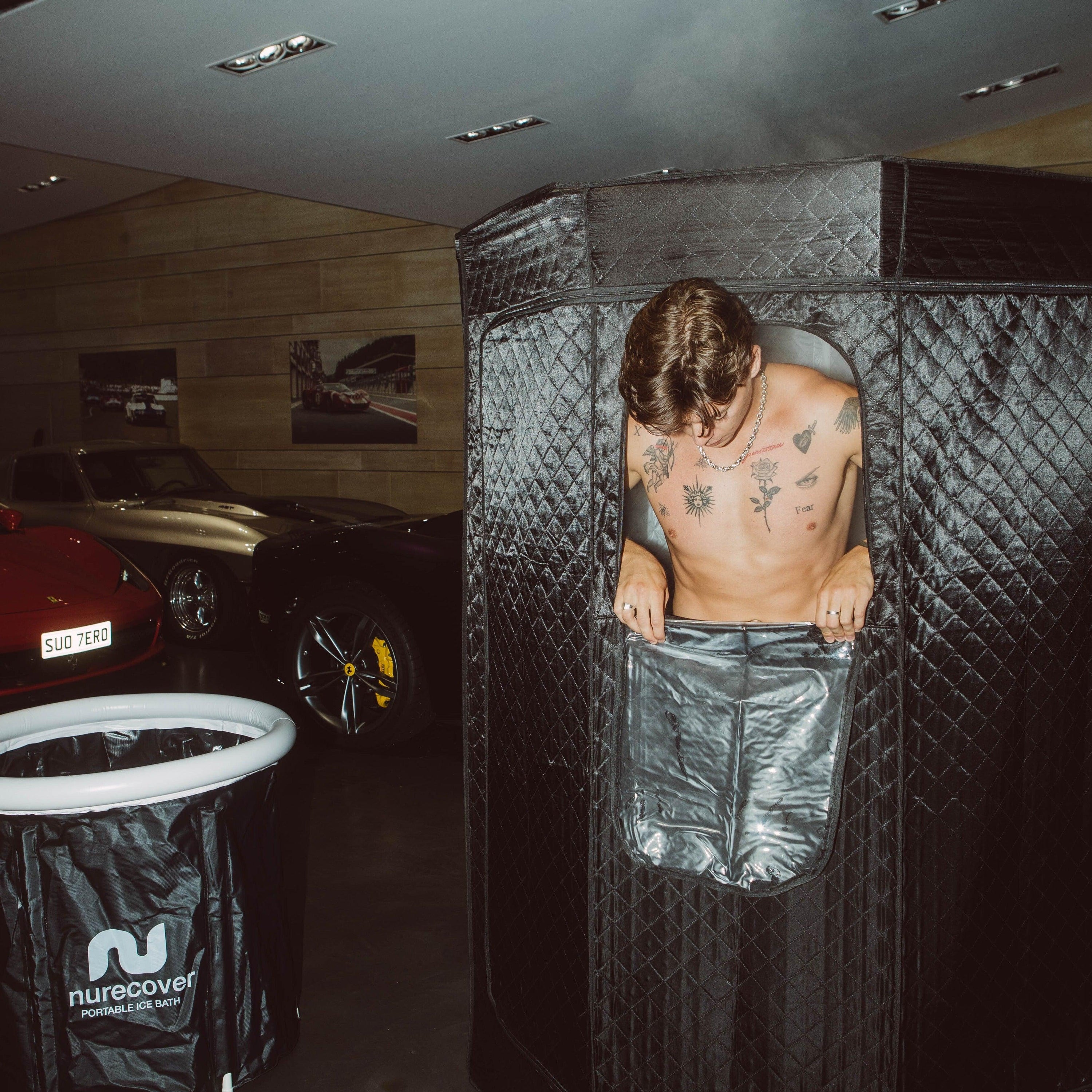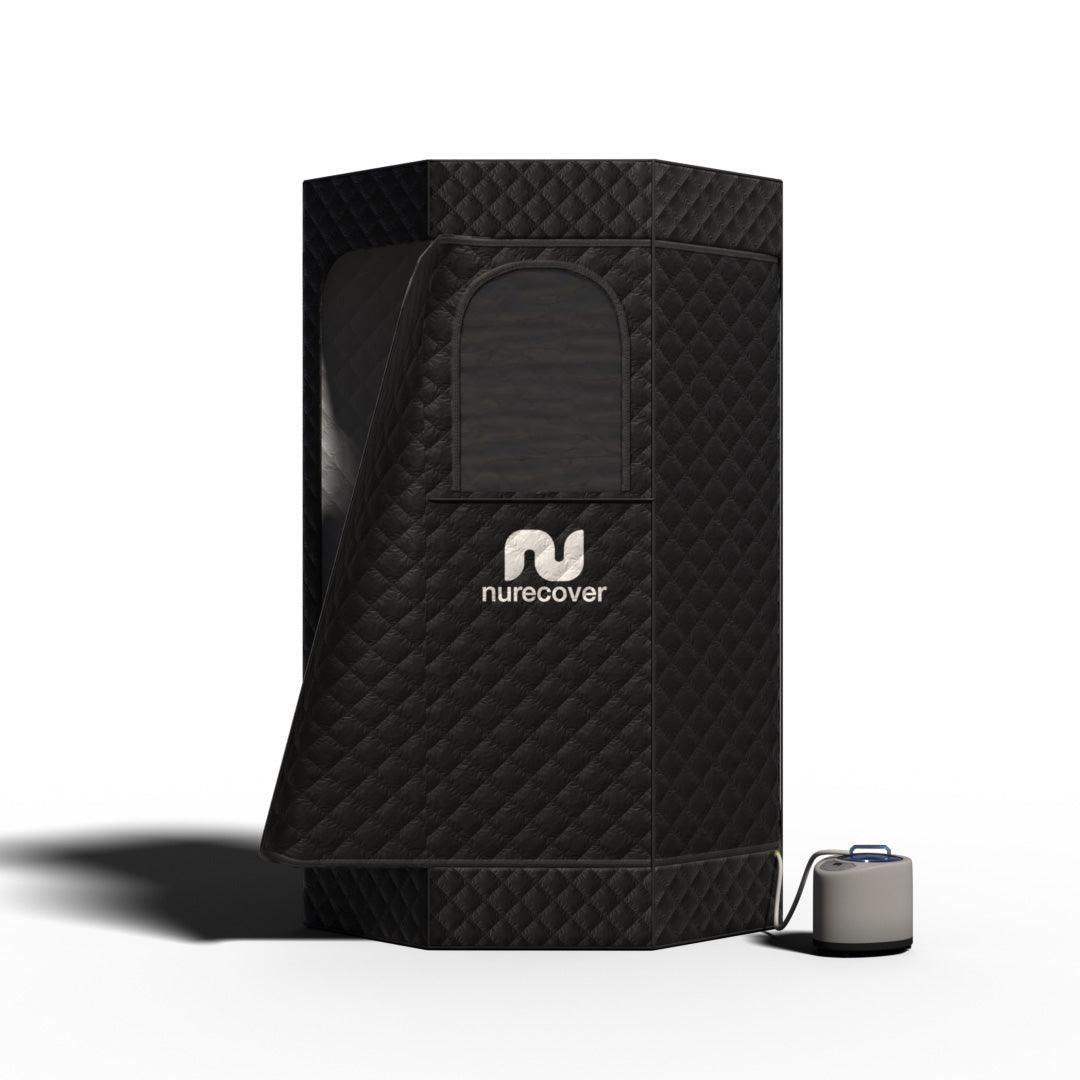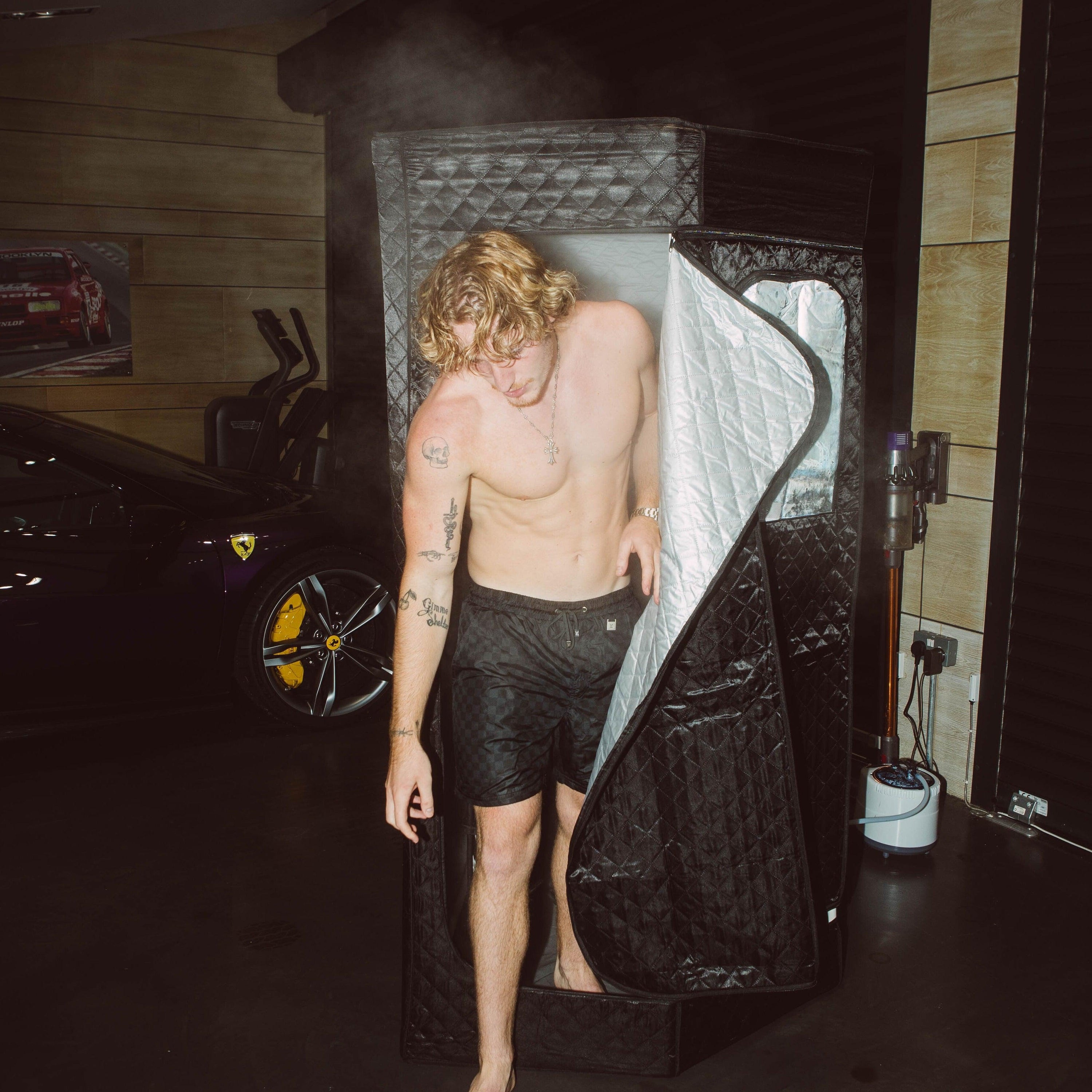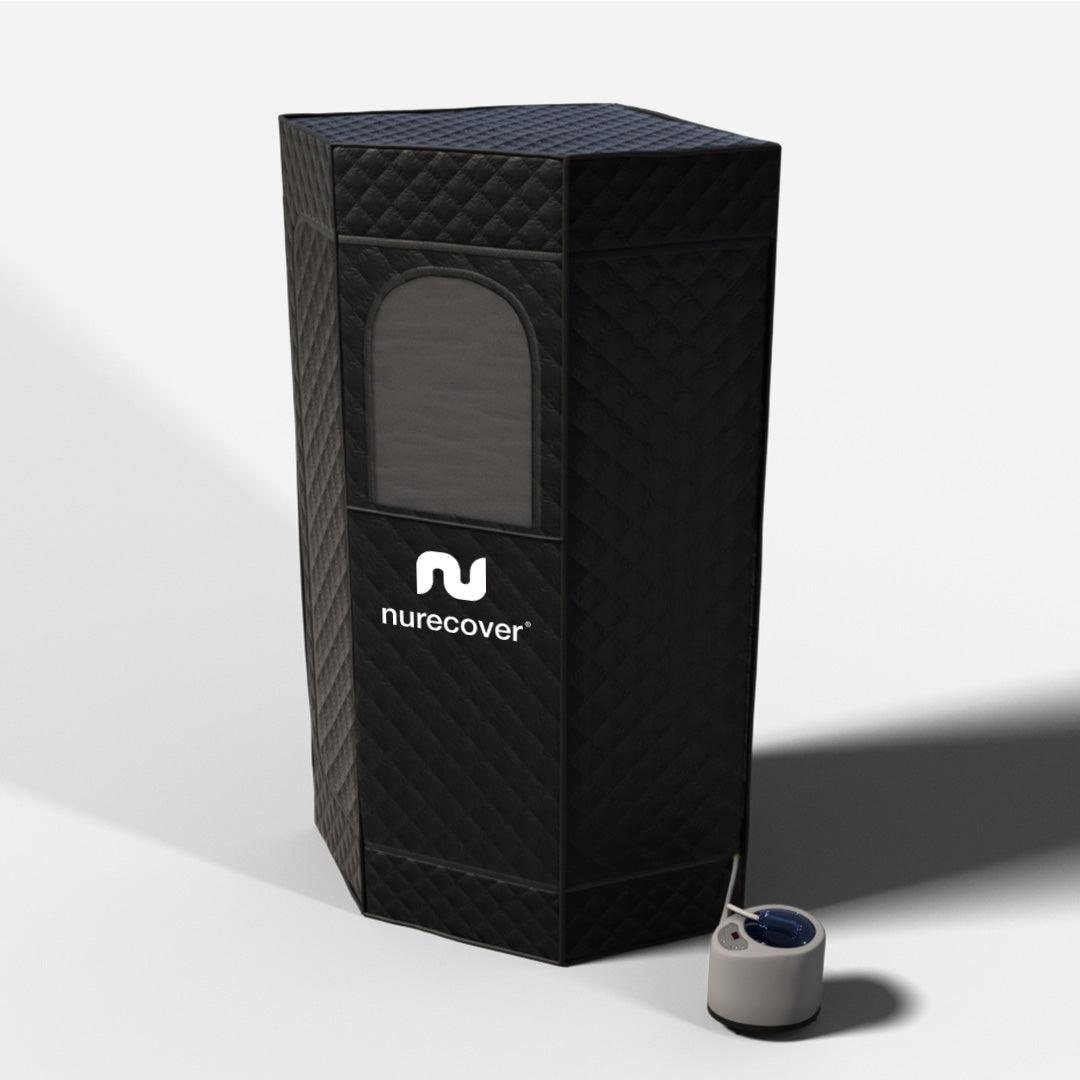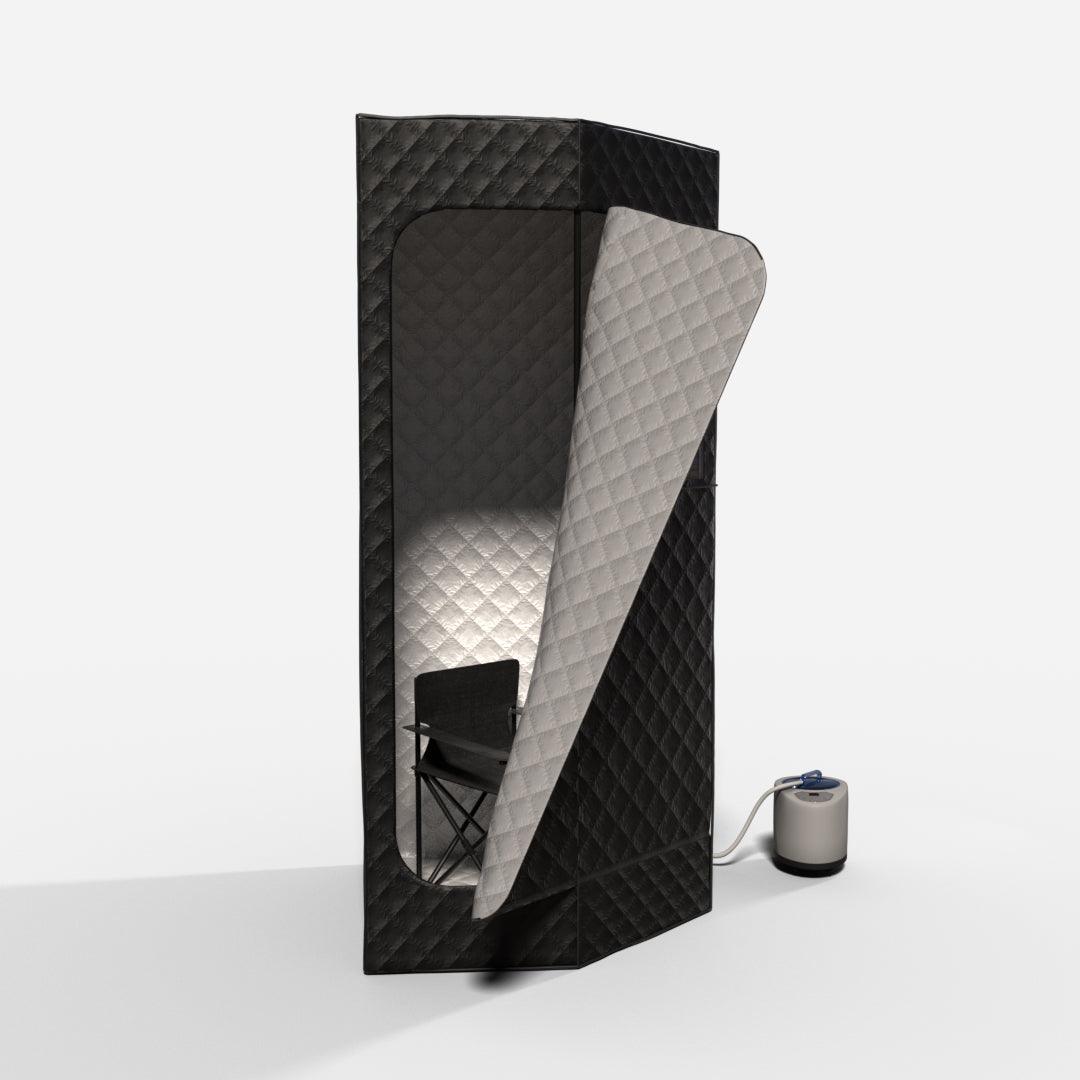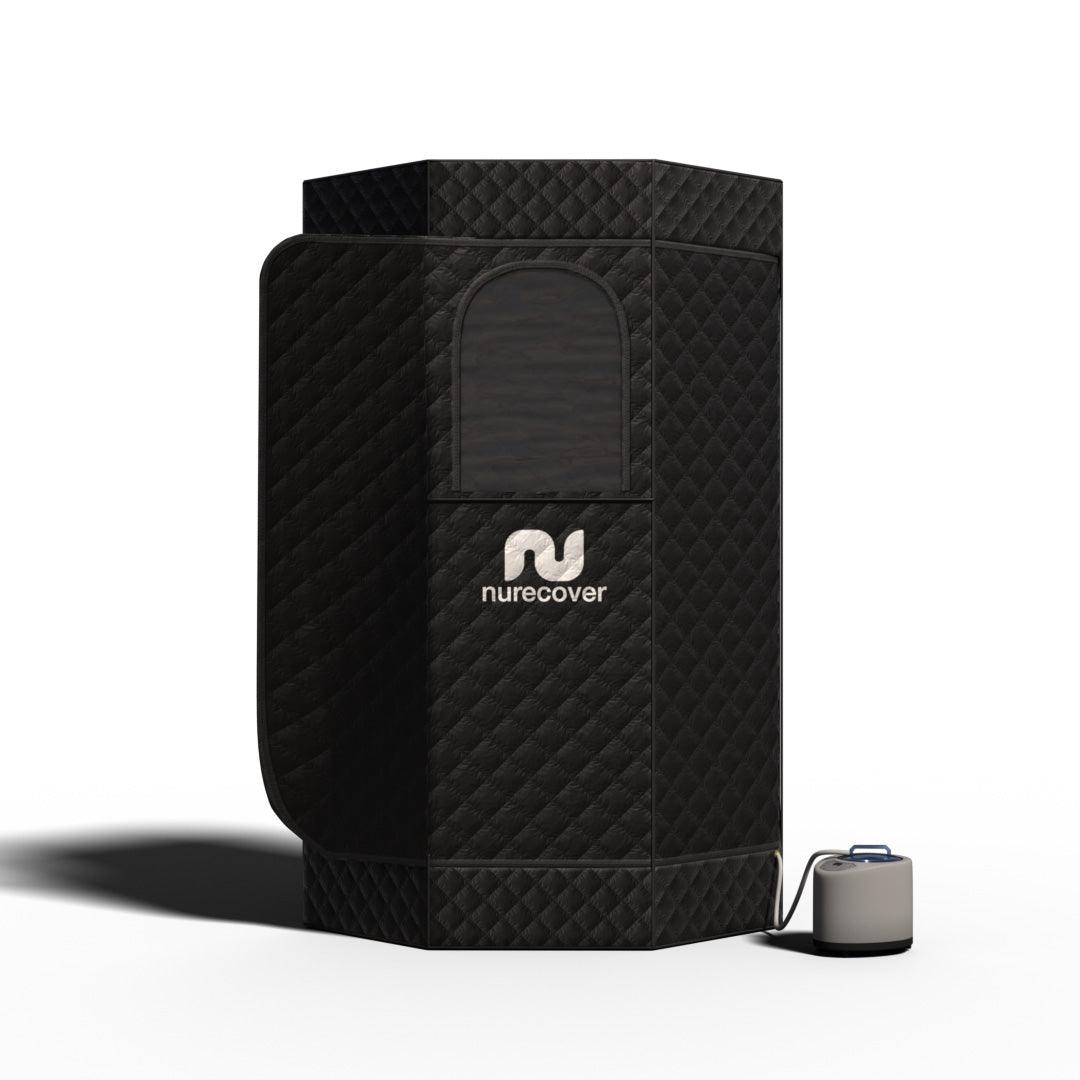 nurecover Tropic® Home Steam Sauna
Item is in stock
Only

0

left in stock
Item is out of stock
Item is unavailable
EXCLUSIVE DEAL:

Add Nurecover Tropic to Cart, Get Portable Ice Bath FREE
Automatically applied at checkout.
Immediate Physical & Mental Benefits
Free Foldable Chair Included
---
We have designed a simple effective way to enjoy thermal therapy anywhere from your House, Patio, Garden, Balcony, Work, Holiday or Apartment.
Over 100,000 Lives Improved
100% body coverage
Cornered Design to save space
Fits up to 6ft1 Standing
Foldable chair included
Easy-to-use Smart Steam Device
The Nurecover Tropic Sauna is a 'fully-portable' insulated wet steam sauna, incorporating an insulated tent-like design to trap all the heat.
Enjoy the therapeutic relaxation and wellness benefits of a $10,000+ sauna right from home.
7 Heat Levels: 1-7
Max temperature: 130 F
Time Settings: 20-60 minutes
Control: SmartSteam Unit & Handheld Controller
SmartSteam Capacity: 2.6L
Voltage: 110V
Wattage: 1000 Watts 50/60Hz
Size: Height 6'1 - Depth 40.5" - Width 48"
1 x nurecover Tropic®
1 x Foldable Seat
1 x Steam Sauna Device + Remote (with all accessories)
1 x Structure Pole Carry Bag
1 x Microfiber Cleaning Towel
1 x Sweat Absorbant Mat
1 Year Warranty
Free Tracked & Insured Shipping:
UK (5-7 Days) - FREE
EU (5-7 Days) - FREE
USA (5-7 Days) - FREE
CA (5-7 Days) - FREE
AUS (7-10 Days) - FREE
Int'l (7-12 Days) - FREE
Every order comes with the following:
- 90-Day money Back Guarantee
- 1 Year Damage Warranty
If you are unhappy with your order, we'll help with the return and refund you.
BUY TROPIC, GET POD FREE
LIMITED TIME OFFER
Applied automatically at checkout
8 Benefits of using a steam sauna.
Sauna sessions can stimulate the release of endorphins, which are natural pain-relieving and mood-enhancing chemicals in the body. Endorphins help reduce post-workout soreness and discomfort, making it easier for the muscles to recover.

The heat from saunas can also help improve joint mobility and flexibility, which is beneficial for muscle recovery. Relaxed and flexible joints contribute to better movement patterns during workouts, reducing the risk of injury and supporting overall muscle health.

Saunas can aid in better sleep by promoting muscle relaxation, reducing stress, improving circulation, and helping regulate body temperature.

The sauna's calming effects and the subsequent drop in body temperature after use can facilitate a more peaceful transition into sleep.

The high temperature and humidity in a wet sauna cause blood vessels to dilate, leading to increased blood flow to muscles and organs.

This improved circulation delivers more oxygen and nutrients to muscles, aiding in their recovery and reducing tension.

The increased circulation means more nutrients are being delivered to your skin and more blood flow will see your skin glow with a rosier, healthier complexion.
The heat and calming atmosphere of saunas can promote relaxation and reduce stress. Stress and tension in the body can hinder muscle recovery.

By easing muscle tension and promoting overall relaxation, saunas create a conducive environment for muscles to recover and heal.

The heat and sweating in saunas may help in eliminating toxins and waste products from the body, thereby supporting the immune system.

The high temperature in saunas causes blood vessels to dilate (vasodilation). This dilation increases blood flow to inflamed areas, bringing more oxygen and nutrients to promote healing and reduce inflammation.

While the calorie burn in a sauna is not as significant as traditional exercise, it does contribute to overall energy expenditure. Some studies suggest that a 20-minute sauna session can burn around 150-300 calories.
We let our reviews speak for themselves.
4.98 average
1000+ reviews
100,000 Happy Customers
I can't recommend this enough. It feels so good to have at home and I can use it at any time without having to drive to my gym.
At first I thought - no way I am fitting in that but after speaking to customer service they said it fits people up to 6'1. It's true because I had loads of room. It comes with a chair too!"
The best feeling in the world having this available at any time of the day. I don't have to go to my spa center anymore, I just hop in and out of this I love it.
I've been using a sauna since I was a teen but hearing that I could get one at home was a game changer. Absolutely amazing tool, a must have for everyone.
I was sceptical at first but after using it for the first time I haven't stopped using it everyday since. It has truely changed how I feel and I recommend it to everyone.
My joints and inflammation are like night and day. The relief is amazing it lasts almost all day. I am mentally more alert and focused and my energy levels are up! This is fantastic. My sleeping is improving. I just feel better overall!!
Frequently Asked Questions
The Tropic™ heats up internally to 115-120°+ F. This is a steam sauna so the near 100% humidity keeps your sweat from evaporating and reaches similar effects as a 160°+ dry sauna.

The condensed area of the sauna also helps to increase the level of heat. You can adjust heat level and duration settings directly on the SmartSteam unit and by remote control.

The inside of the heat insulated cover is designed to help prevent mold and bacteria build up.

After use, we recommend leaving the door flap open to air out and wiping down the water vapor on the inside walls.
The Tropic™ can be used both indoors and outdoors. If you leave it outdoors, we recommend having an appropriate cover such as a canopy, balcony, tarp, etc.

The Tropic is NOT weatherproof. Leaving it outside for a long period of time will cause exterior cosmetic damage.

The Tropic takes about 10-15 minutes to set up and 5 minutes to take down.

After you do it once, it gets easier to do it quickly - we compare it to setting up a small camping tent - we wouldn't recommend having the intention to set it up and take it down daily as that may be tedious. It will come in a box roughly 11in x 11.8in x 40in (for comparison, this is around the size of a golf bag).
Easy Returns
within 60 days of purchase
1 Year Warranty with Every Order